A New Wand Kinda Day
It has already been one of those weeks here. I am a bit stressed and cranky. (Who me? Cranky???) Today I came to work and I really wanted to run away. Donna come over and told me *I have a gift for you that I have been saving for such a time as this.*. Yes I have wonderful friends that buy me wands.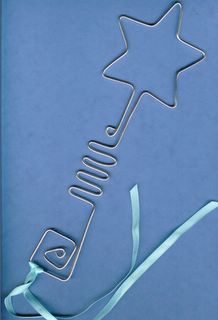 When you tap it gently, it makes a wonderful soothing chiming sound. Very pleasant.
I will either spend alot of time today gently tapping it and floating away with the chimes.....or I will whack someone over the head with it. Either way, I will come out ahead.