IT'S PANTIPALOOZA TIME!!!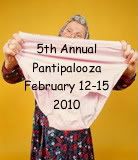 Yes peeps! It is that time of year again! Time for the FIFTH annual Pantipalooza!! Pantipalooza grows more and more each and every year and I have all of y'all to thank for that! What started out as an *I'm not going to feel sorry for myself on Valentine's THIS year* kind of a thing has turned into such a sweet outpouring of love.
Palooza is simple. You are going to choose some woman, women or a women's group that can benefit from something you can donate or do...then you are going to do just that!

Remember....everyone can play and you can adapt the palooza to how you see fit. It is not restricted to just panties. In previous years it has included scarves, shoes, diapers, toiletries and many other things. On my thankfulness list, I always list panties. Newbie's to my blog always think that is funny or odd and yet….I am totally serious. Fresh clean panties make the world do round.

Think of it this way, most of us have washers and dryers so we always have a fresh clean supply of panties. If not, most of us can hit the nearest Wally World and pick us up a pair! We never have to worry about clean undies. Yet, there are some women in our lives and in this world that do not have that option...that blessing. For some reason or other, life has been hard on them. Be it abuse, poverty, hurricanes, earthquakes, bad decisions or whatever....so it is up to us to make a difference!

One chance encounter with a woman and one phone call is what started it all. After on of the hurricanes, I was helping at my son's school. They were taking donations and loading trailers to go and help. One woman drove up and wiggled her finger at me to come over. She had bags and bags filled with feminine hygiene products, deodorant and panties. She said that she could not imagine going through some so life changing and not having a clean pair of panties to put on. I was blown away because I had never stopped to think about those kinds of things being needed. I wish I knew that woman. I have never seen her since that date. I know what she did made a difference in how I thought about things. I would really like to thank her.

When Valentine's came around that next year, I called our local Crisis Center and talked to some of the counselors there. If you decide to do that, please remember that there may be some questions that they cannot answer due to confidentially laws. They told me, on average, how many women are at the safe house at any given time. I explained to them what I was sort of looking at doing. They explained to me that they get things donated such as shampoo and lotion but it is usually the generic stuff. They suggested body sprays or lotions that smell nice. I will put those things on my list to pick up. I am also donating...PANTIES!! They told me that they can always use panties at the Shelter in all shapes and sizes.

If not a shelter, other suggestions would be just asking around and finding one woman to zero in on. This is a hard holiday for a lot of people for many different reasons. Singles, widows, divorcees and couples having problems would just be a place to start. You are all very creative people and I just know that you will find the perfect person to touch. What about the chick that always checks out your groceries? Why not hand her a gift certificate for a pedicure? A Valentine left on the windshield of a teacher that explains that, not only are they appreciated but WHY they are appreciated. A Sonic card, McDonald's certificates, an offer to baby sit for one evening, an oil change certificate.....Come on! Put on your thinking caps and let me know what you come up with!


The outpouring over the last few years has been wonderful! I took the advice of one of the woman at the crisis center and am donating panties in my size...that way I am helping some woman that is a lot like me. If you decide to participate, please leave me a comment!! I want to know how far this reaches. Also, feel free to steal the idea and put it on your blog.....only good can come of it! This year I learned how to make a button! You can grab it there on the left hand side of my blog! Please post it any and every where!

Delivery this year is from February 12th until February 15th. Valentine's is on a Sunday this year so. That is why I am extending the days for pantipalooza this year.

We learned it when we were little. BIG TAKES CARE OF LITTLE. All of my readers are big in spirit and in heart.
So, what do you say? Let's put on our big girl panties!! Go ye forth and DO!
......has PLENTY of big girl panties cause she is a big girl!!